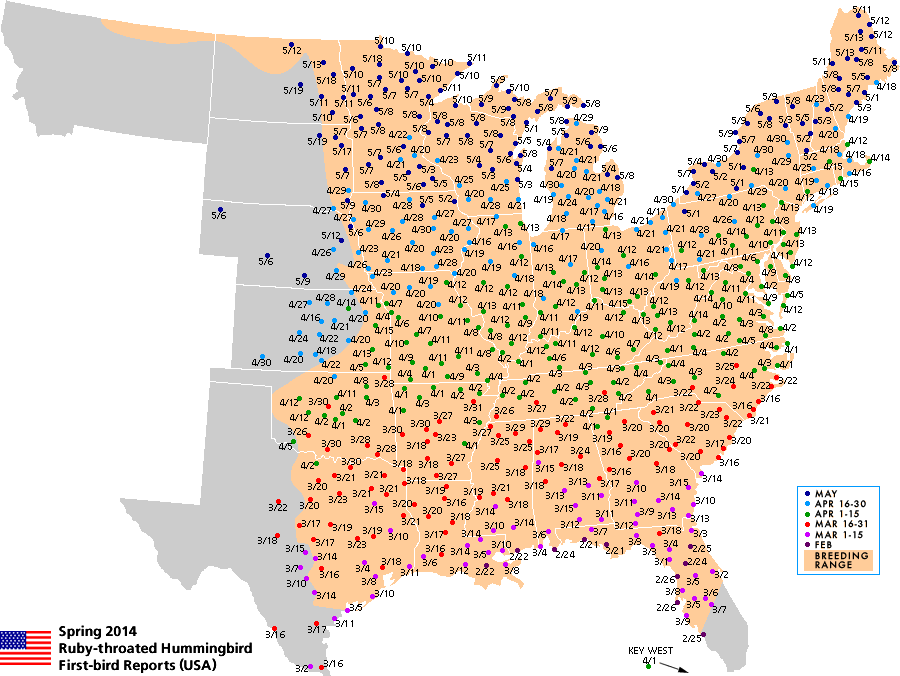 Inspired by Lanny Chambers's "Spring 2011 Migration of Ruby-throated Hummingbirds" map (above) at hummingbirds.net, which I've seen in the past, but picked up again thanks to Nate Swick's post on the ABA blog, I gathered up some pieces of code I had laying around and put together an interactive version, using the Cornell Lab of Ornithology eBird v1.1 API and a range map from NatureServe via Penn State's Center for Environmental Informatics. I forgot how much I absolutely enjoy web-map programming when it's about birds!
Click the screenshot above to go to the map at theskua.com/ruhu. A few notes about this map. It's based on only the past 30 days of sightings submitted to eBird, including provisional sightings which have not yet been reviewed and/or approved by regional editors (an example of such a sighting, at the time of press, is the lone sighting in central Arkansas). Every time map is loaded, the sightings are updated from what's been submitted to eBird, so this map will change over time.
I have learned a couple of things when comparing the map that I've created with the one on hummingbirds.net.
Data – Lanny uses a custom report form where people in his network can submit sightings as they first see the birds, he reviews them and then updates the map. This sort of focused network of observers, directed at one species and one seasonal phenomenon has produced a much more robust and thorough representation of the underlying migration in "real time", than, apparently, the eBird data can. The emergent properties of the eBird collection mechanism are apparently not immediate enough to show the true front of real-time Ruby-throated Hummingbird arrival. I was worried that a chunk of more recent data was missing, but looking at the map generated at eBird for March 2011, the pattern appears to be the same.
Editing – Lanny's map is hand-edited. He is selecting sightings to represent a "first arrival" for a general region and as a result, there are clear bands of arrival dates, whereas the eBird map is just a splattering of available sightings with some pattern in temporal distribution. I think the arrival pattern would be more evident with the careful hand of selection and summarization that Lanny does with his map. However, that takes person-time, patience in editing and vetting, and expert knowledge, characteristics raw crowd-sourced data sources often lack.
I had a great time doing this and I think it was a valuable exercise in comparing expert knowledge with the knowledge of crowds in representing a phenomenon like the arrival of Ruby-throated Hummingbirds. If there's one practical bit of advice that can come of this, it's that eBirders of the mid-South should get out there and submit their sightings early and often!
Update (11:00am 3/30): Looking at the comments in the ABA Blog post, I learned of Journey North's work in tracking hummingbird migrations and that they also have a near real-time updated map of Ruby-throated Hummingbird migration that uses a similar method of data collection and presentation as hummingbirds.net.
Update (12:00pm 3/30): I've updated the map to use the temporal classing scheme from Journey North, since it had better temporal granularity. Also, I added a "Moving Window" function to the animation, which when used at the 5 or 7 day level really shows the northward progression nicely!